We are pleased to announce the launch of The PWM Green Matrix, our own independent sustainable methodology which cuts through the "green" investment jungle.  It assists our advisers build client knowledge and understanding of the sustainable investment options and then helps us to match the individual requirements of our clients to create the most appropriate sustainable portfolio. This distinctive service is exclusively available to our clients.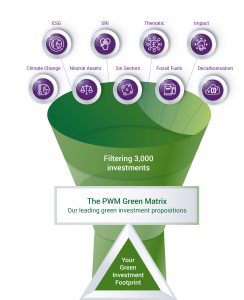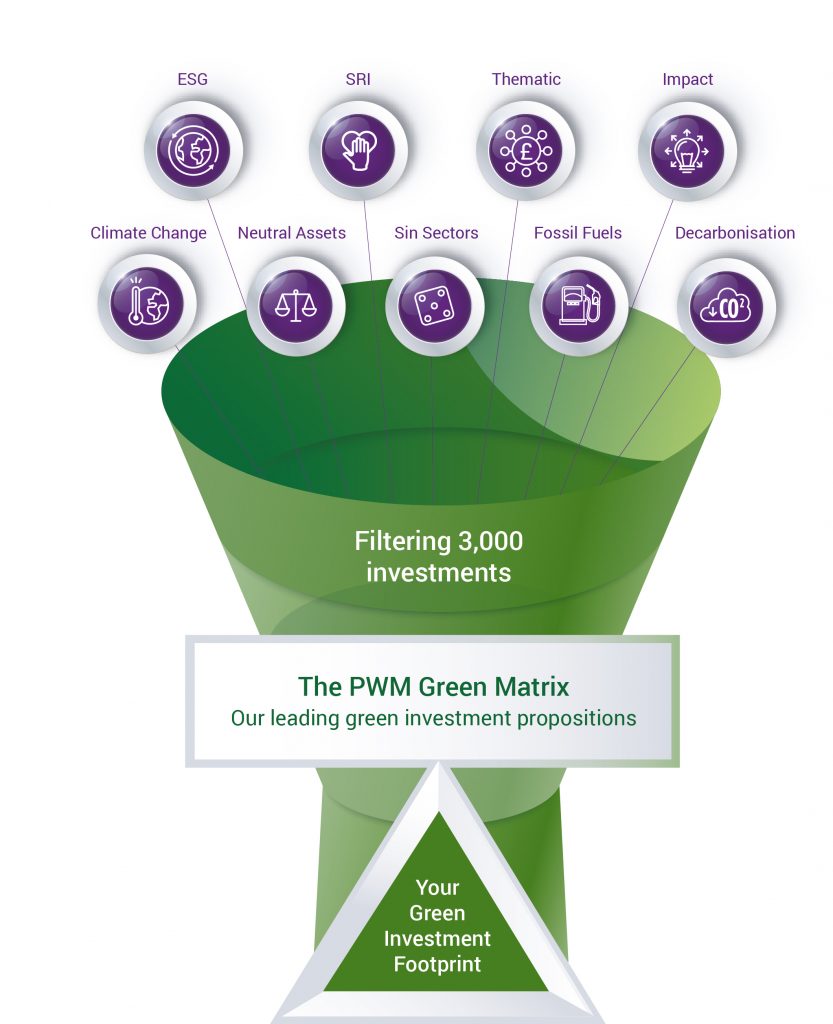 In partnership with leading research group Asset Risk Consultants (ARC), we have conducted extensive research into the leading investment managers and funds operating in the green arena and filtered more than 3,000 investments to identify the leading green investment propositions.  The PWM Green Matrix allows us to work with our clients and match their individual requirements to the most suitable sustainable investments, creating a bespoke green investment footprint for each client.
Our advisers will be able to create bespoke portfolios tailored to each clients' risk appetite, utilising investment groups which excel in a clients' particular risk area. This is possible as we have, and continue to, understand each client, their thoughts on green investment, and their aspirations for our planet and future generations.
In addition, our investment independence allows us to allow maintain the necessary oversight and objectivity to find the best solutions to meet our clients' sustainable investment needs without being wedded to a particular product. This is often not a position available to other providers which are tied to particular funds and investment houses.
James Roberts, Managing Partner, said: "The PWM Green Matrix is a result of an aspiration held by the firm and our clients' to ensure a sustainable future for following generations. We have been leading the sustainable conversation with our clients to understand their thoughts and helping to educate on the opportunities and threats within green investing. The Green Matrix establishes PWM as the foremost investment independence boutique which can source the diversification and best of breed needed by clients seeking to invest in a more sustainable future."
The contents of the article have been prepared solely for information purposes. The article contains information on financial products and services and such information is designed for and addressed solely to individuals seeking generic industry information.